Full Automatic Disposable Surgical Mask Folding Mask Making Machine
Full Automatic Disposable Surgical Mask Folding Mask Making Machine
Equipment Introduction
This equipment is suitable for the fully automated production of flat masks, mainly including coil material feeding, folding and compounding, nose bridge tendon material feeding, and mask forming Molding, mask cutting, ear band feeding and welding, finished product blanking, etc., complete the entire production process from the raw material of the coil to the finished mask.
In the process, the produced masks are comfortable to wear and have no pressure.
The overall structure is as follows:
Machine size: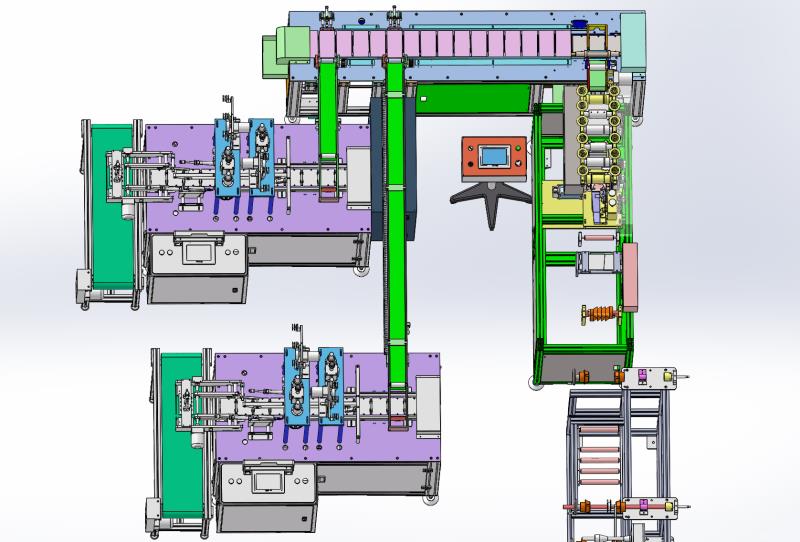 4200*3800*2200mm(L*W*H)
The main structure of the equipment
Feeding folding machine
Manual loading, automatic unloading;
Automatic folding and multiple layer ultrasonic welding;
Automatic cutting
Film transfer machine
Film transfer machine
Automatic material distribution;
Automatic belt conveying;
External ear band welding mechanism
Servo step feeding
Automatic ear strap feeding;
Ultrasonic welding automatic welding ear band;
Automatic cutting.
The basic parameters of the equipment
1. Configure the power supply:
AC220V ± 5%, 50Hz, the maximum starting power of the equipment is 16KW.
2. Compressed air:
0.4MPa ~ 0.6Pa, air pressure fluctuation ± 1% (clean water after removing water, no oil, filtering, voltage stabilization), compressed air consumption:
300L / min.