Multi PCB Depaneling Tool,CWVC-5
Features:
1.It can cut many boards with multiple sets of knives work at the same time.
2.The knife flywheel is adjustable as a whole from 0 to 5mm
3.The distance between knives is regulable as well, satisfy to cutting the single PCB width from 15mm-20mm
4.The blade is made of Japan imported high speed and high precision steel material, which is durable and have a long service life.
5.It is convenient to adjust the cutting speed through rotary knob
6. No limits of the cutting length.
7.Thickness range of PCB: 0.8-3.5mm
8. With a conveyor belt line, the separated PCB can be send out directly to reduce pick- and-place.
9.The machine adopts multiple blade to separate boards with simple operation and high efficiency.
10. It can connect the production line to separate the PCB, fitted for batch production.
multi pcb depaneling tool,CWVC-5 Specification: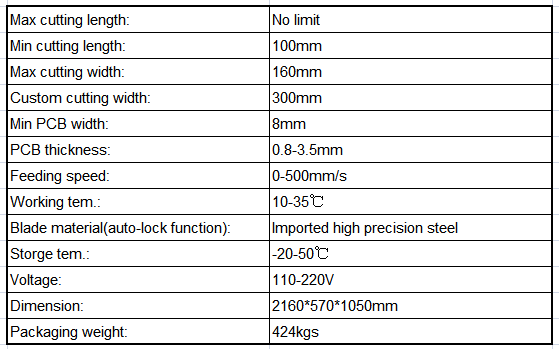 Our Service:
# 1 day delivery
# 24 hours fast response
# Largest manufactory in South China
# 100% responsible for quality
# 14 years experience
# Free sharpening for blades within 3 months